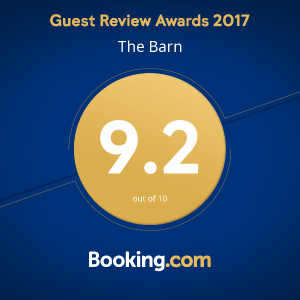 ★★★★★ 5 out of 5 stars. Way better than we expected!
The listing already looked amazing before we even arrived – but when we did it was better than expected! The Barn is so well looked after, clean and well-presented. It looks like it should be on a magazine and has a very warm and homely feel, stocked with all the essentials. We didn't want to leave and could have easily spent a week there! It's secluded enough to feel like an escape but only a 20 minute drive through beautiful country to get to Byron Bay. We absolutely LOVED our stay and would highly, highly recommend it to anyone!
Jess – Sunshine Coast
Staying at The Barn was a real treat. The accommodation certainly exceeded expectations. It truly is a fabulous old building that has been restored tastefully to provide every comfort. Modern yet rustic with high ceilings and original exposed beams. Furnishings were first class, with comfort and convenience a priority. Karen and Christina were delightful to deal with and nothing was a trouble. The property upon which The Barn is situated is a piece of paradise. I would thoroughly recommend this as a delightful escape in a beautiful corner of Australia. Thanks for letting us stay in your beautiful property…we didn't want to leave!
Tony & Dee – Sydney NSW
'The Barn is a truly unique place! A lovely peaceful location, beautiful ambience & special features such as the four-poster bed. It has a really French Provincial feel in the Australian Countryside!  It is a truly beautiful property & exceeded our expectations – congratulations on presenting a lovely holiday escape!'
Maria – Brisbane QLD – Evvoke – Bespoke Experiences. Authentic Travel and Events
'We had a wonderful, peaceful weekend in rustic luxury. Huge timber beams, stone and brick beautifully crafted together and the setting was idyllic. We felt we were in a Provincial or Tuscan farmhouse with just the right touch of sophistication. Thanks Karen, we are looking forward to our next visit'.
Doug & Dawn – Noosa Heads QLD
The Barn is very peaceful and tranquil, a truly relaxing place to stay – yet conveniently located to many places of interest. Well presented and equipped accommodation. Thank you so much, we had such a wonderful stay. Thanks for looking after us.
Hannah and Jon – Sydney
This place has everything you need. Cosy, Picturesque, French Provincial Luxury. Everything was perfect.
Adrian – Sydney
Everything was perfect!! Comfy beds, welcoming French inspired villa… Beautiful location and amenities…all you could ever want-pure luxury!
Kathleen – New Zealand
Read more on our listings at
But book direct here from our website and save on fees